Nag Tibba Trek is the perfect weekend option for people living in and around Delhi to start their amazing journey of exploring mountains.
Though there are also other weekend trek options near Delhi, Nag Tibba trek beats them all. Wondering how? Here are the reasons why Nag Tibba is a great weekend trek near Delhi.
1. Nag Tibba Trek Has Close Proximity To Delhi
Nag Tibba, located in the Tehri Garhwal district of Uttarakhand is at the closest distance from Delhi as compared to other weekend treks.
The trek starts from Pantwari village which is approximately 332 km from Delhi. An overnight journey of 5-6 hours from Delhi and then 3 hours journey from Dehradun is required to reach Pantwari. That means you drive for approximately 8-9 hours to reach Pantwari to experience the thrill of Himalayan summit climb in just a weekend.
You can also take a flight from Delhi to Dehradun which takes only 45 minutes. From Dehradun Airport, a drive of 94 km for approximately 3 hrs will take you to Pantwari.
No other treks in the Himalayas offer such close proximity to Delhi.
2. Nag Tibba Trek Has Short Duration Of 2 Days
In today's fast-paced world we are engaged in our city life so much that we rarely get enough time off. So, we look for escapes which can be done in short duration probably on weekend. Nag Tibba is such a trek which is perfect for the weekend and can be easily done in 2 days.
The 2 days duration give you great flexibility to spend your weekend in the mountains with a stunning view of mighty Himalayas.
3. Nag Tibba Trek Is Easily Accessible
With close proximity and short duration, Nag Tibba trek is also easily accessible. From Delhi you can travel by road, train or air depending upon your feasibility. All the options are easily available.
If you plan to travel by road then you have plenty of options. You can book a personal taxi from Delhi, can take government-run buses from ISBT Kashmiri Gate terminal or you can book your seat in the privately run buses.
Travelling by train is also a good option. From Delhi, many trains are available for Dehradun i.e Nanda Devi Express, DDN Jan Shatabdi etc. But avoid Mussoorie express, which is 99% time late.
Flights are also available from Delhi to Dehradun. Seats are easily available as there are many services like spice jet, indigo etc operating on this route.
4. Journey Towards Nag Tibba Passes Through Mussoorie
Being a weekend trek in the Himalayas Nag Tibba Trek not only offers stunning views on the trek. But you will also have a plethora of splendid views during your journey towards Pantwari.
The best part of the journey is passing through the queen of hills- Mussoorie. Mussoorie is among the most popular hill stations in the country and a captivating paradise for travellers.
While passing through Mussoorie you have a magnificent view of the Doon valley below and Mussoorie hill above. At Mussoorie, you can explore various famous places like Kempty waterfall, mall road etc.
The drive after Mussoorie is along the Yamuna river which makes the journey even more thrilling. During your journey, you can even spend some time on the banks of the river near Yamuna bridge.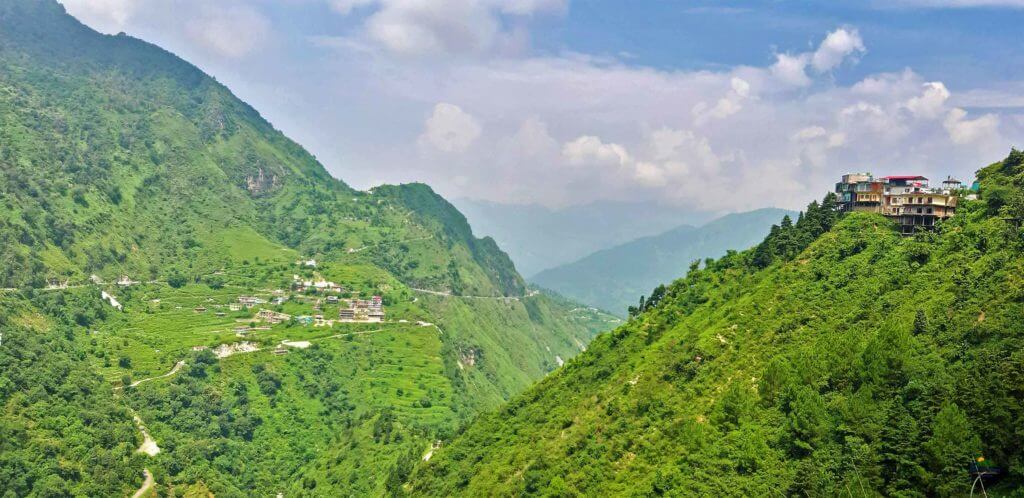 5. Easy Grade Trek
The total Nag Tibba trek distance is approximately 16km with an easy gradient which can be easily trekked by anyone.
The trail starts from Pantwari and is a gentle steep for 1 km. After that trail has few small steep patches till the campsite which can be easily covered. From the campsite, the trail again climbs up with gentle steep towards the top. This climb has a zig-zag trail which helps in climbing it easily.
6. Camping Amidst Forest
During the Trek, you get a splendid opportunity to spend time in the campsite located in the middle of Oak and Rhododendron forest. Camping at such location is a thrilling and rare experience.
While being at the campsite you can explore the forest area and spot wildlife around.
7. Offer Spellbinding Views
Nag Tibba is a splendid trek and offers you a picturesque view throughout the trek. But the best views can be seen only from campsite and summit.
From the campsite, you have a stunning view of sunset in front and scenic view of mountain ridges on the left.
Apart from the campsite when you climb to the summit you have a splendid 180-degree view of mighty Himalayas. You can see the snow-capped Himalayan ranges such as Swargrohini, Bandarpoonch, Kala Nag, Srikantha, and Gangotri.
From the summit, you also see Kedarnath peak in the north, Doon valley and the snow peaks of Changabang. With views like this Nag Tibba is surely a great weekend trek.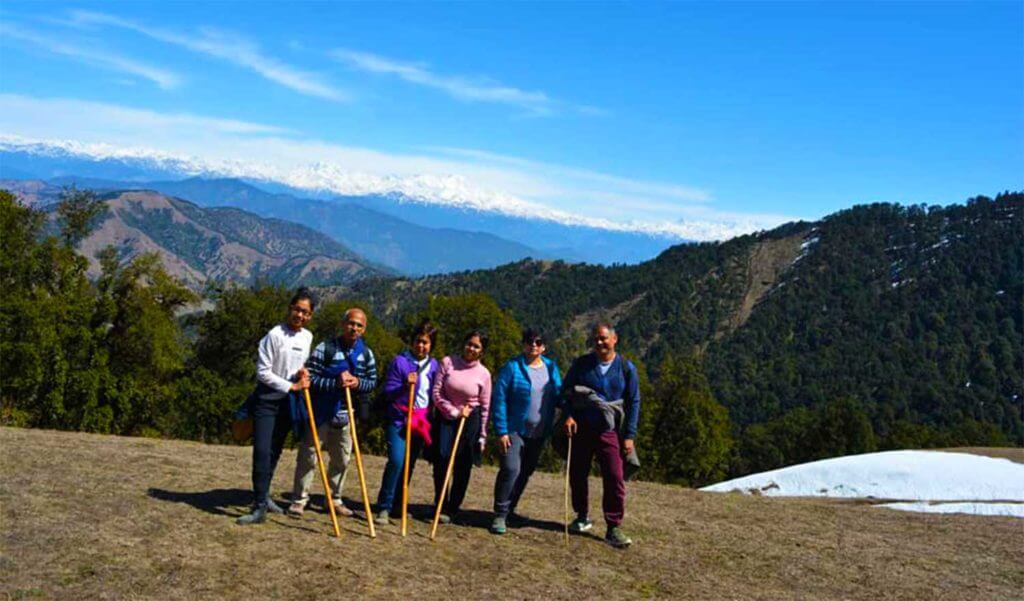 8. Accessible Throughout The Year
Nag Tibba weather is such that it can be done throughout the year in all seasons including monsoon. Every season offers you different views and experiences.
In summers Nag Tibba temperature is cool with a clear blue sky. Such weathers offer you spellbinding sunset views and a great escape from roaring hot weather of the city.
During monsoon, the whole trek turns lush green with mist and clouds floating all around. At this time nature seems to be at its peak.
Nag Tibba trek in winter is covered under the white sheet of snow, which is a completely exhilarating experience. During winter you trek on snow, camp on snow and enjoy the thrilling slides.
9. Great Opportunity To Explore Garhwali Culture
Trek to Nag tibba is a great opportunity to explore Gharwali culture. Throughout the trek, you meet local people, come across local vegetation, huts, eat local organic cuisines and learn the local language.
During the whole trek, you spend time with local people as they assist you and build a longlasting friendship with them.
So, there you have it- the best reasons why Nag Tibba is a great weekend trek near Delhi.
If you have done this trek, tell us why you think it is or isn't a go-to choice for a weekend in the comments section below.