"Kedarkantha Trek" Is this trek next on your list? Are you searching for detailed information on this trek? If so, you have landed on the right page.
In recent years, Kedarknatha Trek has gained tremendous popularity among trekkers in India. Thousands of trekkers venture on this every year, especially during winters when the trek is wholly immersed in sparkling snow.
The Kedarkantha Trek is nestled in the heart of the Garhwal region of Uttarakhand and offers a perfect blend of natural beauty, adventure, and spirituality. It beckons to those who seek to conquer snow-clad peaks, traverses dense pine forests, and immerse themselves in the pristine beauty of the Himalayas.
In this blog, I will take you on a journey from the base to the summit of the Kedarkantha trek. This journey will provide the definitive adventure roadmap, ensuring that your Kedarkantha Trek is nothing short of an extraordinary experience.
Kedarkantha Trek: Discover The Enchanting Himalayan Trail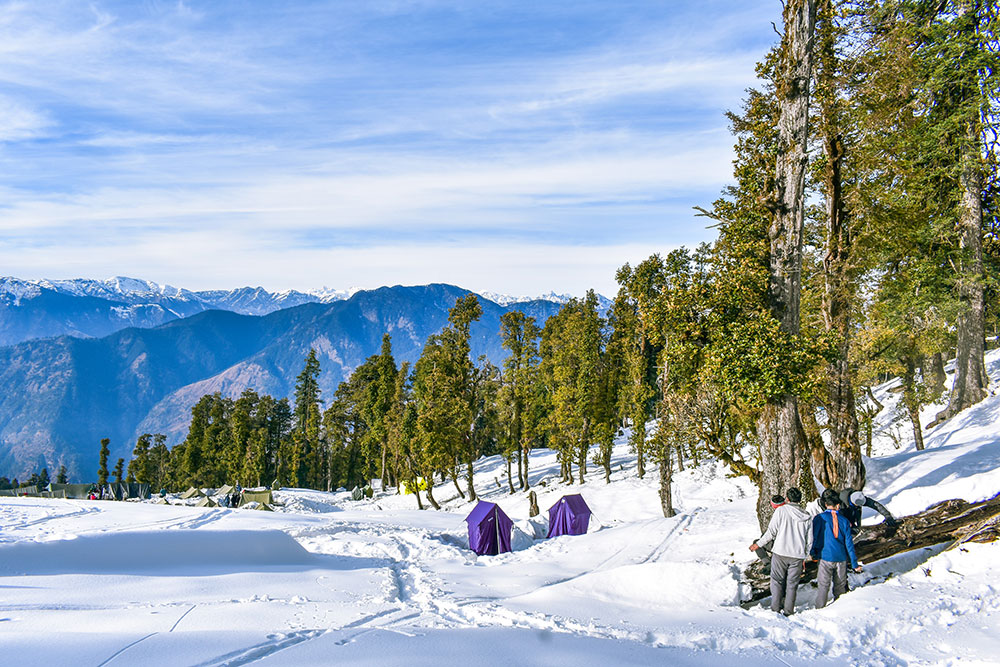 Set up in the picturesque hills of the young Himalayas, Kedarkantha Trek is India's most popular winter trek. It is a Six-day trek full of thrilling snow adventure and majestic Himalayan views.
The trek starts from Sankri village, a popular trekking destination in Uttarakhand. From Sankri, you must enter Govind Balabh Pant Wildlife Sanctuary to venture on the Kedarkantha Trek.
During the trek, you pass through one of Uttarakhand's most beautiful oak and pine forests and campsites, specifically the Judda Ka Talab campsite. It is a small lake surrounded by pine and oak forests that will mesmerise you with its beauty.
Another major attraction on the trek is an unparalleled 360-degree view of the mighty Himalayan Peaks from the summit. You will see the snow-capped peaks of Swargarohini, Black Peak, Bandarpoonch, and many more.
Kedarkantha Trekking Itinerary
Although there are different itineraries and two routes for the Kedarkantha Trek, I am sharing the easiest and most popular one, followed by most trekkers and trek organisers, in detail.
Along with my teammates, I have explored this famous Kedarkantha Trek route multiple times while following the itinerary mentioned below.
Day 1: Dehradun to Sankri
Day 2: Sankri to Juda Ka Talab
Day 3: Juda Ka Talab to Kedarkantha Base
Day 4: Kedarkantha Base to Kedarkantha Summit and Back to Hargaon
Day 5: Hargaon to Sankri
Day 6: Sankri to Dehradun
Day 1: Dehradun to Sankri
Drive from Dehradun To Sankri
Departure Location – Dehradun Railway Station
Departure Time –: 6:30 am
Total Drive Distance – 190 Km
Time Taken – 7-8 Hours
Accommodation: Homestay or Guest House
Altitude – 6,398 ft
Your journey starts at 6:30 am from Dehradun Railway Station, where you will board your transport.
If you book your trek with any trek organisers, you don't have to worry about the transport. But if you plan to trek alone or hire local guides at Sankri, you have two options.
First, you can board the Uttarakhand Transport buses from the Musoories Bus stand just outside the railway station. The buses run on the Dehradun to Sankri route and depart from Dehradun around 6 am and 7 am. But make sure you reach the bus stand at least an hour before to book a seat as there are limited seats.
The second option is to book a taxi at least a day before to avoid last-minute hustle. You can book a taxi in advance with your guides or local Dehradun taxi operators.
So, once you board your transport, the scenic drive to Sankri passes through Mussoorie, Nainbag, Purola, and Mori. Throughout the journey, you will be accompanied by the gushing Yamuna river till Naugoun and then Tons (a tributary of Yamuna) to Sankri.
You will reach Sankri by 5-6 pm after a thrilling journey of 7-8 hours. On reaching Sankri, check in to your accommodation, take rest, and then explore the Sankri village.
Sankri is a picturesque hamlet and is the base for many treks like Har Ki Dun, Bali Pass, Borasu Pass, Ruinsara Tal, and Bharadsar Lake. You will find trekkers in considerable numbers and numerous small shops selling or renting trekking essentials. If you miss any item, you can buy or rent it from these shops.
But I suggest you should bring your own stuff to avoid last-minute hustle. Moreover, as thousands of trekkers do this trek, you may not find trekking gear in stock at the last minute.
Day 2: Sankri to Juda Ka Talab
Trek from Sankri To Juda-Ka-Talab
Trek Distance: 4 Km (approx)
Time Taken: 4-5 hrs
Accommodation: Tents
Altitude: 6,400 ft to 9,100ft
You can start the second day of the trek after a delicious breakfast. Today, you will trek 4km to reach Juda Ka Talab campsite.
The trail starts from the village and climbs into the picturesque pine forest after 10 min. While traversing through the pine forest, you encounter various flora and fauna. However, during winter, one can rarely see any wildlife due to heavy snow, which makes it more enchanting.
Continuing on the trail, ascend gradually in a zig-zag manner and reach a point where the forest opens up to a large meadow. Here, look for local shops around and halt for some time.
After rest, continue your journey and reach Juda Ka Talab by lunchtime. Juda Ka Talab is a beautiful lake surrounded by dense oak and maple forest, giving it a beautiful contrast. During winter, it is completely frozen, making it picture-perfect.
Post exploring the place, and spend your night at this campsite under the spectacular sky gazing at stars and galaxies at night. You can also see the mighty Himalayan peaks, specifically Swargarohini, from Juda Ka Talab Campsite.
Day 3: Juda Ka Talab to Kedarkantha Base
Trek from Juda-Ka-Talab to Kedarkantha Base
Trek Distance: 4 Km (approx)
Time Taken: 3 hrs
Accommodation: Tents
Altitude: 9,100 ft to 11,250 ft
Start trekking inside the dense Pine and Oak forest from Juda Ka Talab campsite. While traversing inside the forest, you come across several Shepherd huts on lush green meadows. Explore these huts to get a taste of nomadic life. You will be amazed to see how these huts are built and how locals live inside them.
These meadows are covered with glittering snow during winter, allowing you to have a thrilling walk in the snow. The trek is easy from these meadows, as it hardly takes 2 hrs to reach the Kedarkantha base camp.
On reaching the Kedarkantha base camp, you are surprised to see the number of tents there. You come across tents as far as your eye can see.
Once you find your spot, pitch the tent, enjoy the surrounding view of the Himalayas, meet other trekkers, and enjoy playing in the snow.
In the evening, have dinner earlier than on other days as you must wake up at 2 am for the summit climb. It is vital because if you wake up late in the morning, the snow on the route starts to melt as the sun comes out, and it gets difficult to walk on it.
While leaving for the summit early in the morning is better because the snow is hard and more accessible to walk on.
Day 4: Kedarkantha Base to Kedarkantha Summit and Back to Hargaon
Trek from Kedarkantha Base To Kedarkantha Peak and descend to Hargaon camp
Trek Distance: 6 Km (approx)
Time Taken: 7 hrs
Accommodation: Tents
Altitude: 11,250 ft to 12,500 ft to 8,900 ft
Today is a long day as you conquer the Kedarkantha Peak and then descend to Hargaon Camp. Moreover, you start early at 2 am with a delicious breakfast and climb up for hours on snowy slopes.
After breakfast, start climbing towards the summit of Kedarkantha. The trails ascend from the camp and meander on the slopes up to the summit. In between, there are many sections where it is very steep, but the view in the backdrop makes for it.
These slopes are full of snow during the winter, increasing the thrill of climbing twice. Continuing on these steep slopes, you reach the summit around 6 am.
On reaching the summit, you are spellbound by the 360-degree view of the mighty Himalayan peaks, with the sun rising in the background. Among all the prominent peaks visible from the summit are Swargarohini, Black Peak, Bandarpoonch, Gangotri, Yamunotri, Har Ki Dun, and Rupin mountain ranges.
Spend some time on the top of Kedarkantha Peak, then descend towards base camp for lunch. While descending, you must follow the same root as taken while ascending.
It is a thrilling and easy descent for you as you are filled with energy and motivation after submitting Keadraknatha Peak.
On reaching base camp, rest and enjoy the lunch celebrating your success. Post lunch, move towards the Hargaon camp, which retakes an hour and a half through the dense forest.
Spend today's night at this camp enjoying with your trek mattes while celebrating the friendship and your trekking journey.
Day 5: Hargaon to Sankri
Trek from Hargaon camp to Sankri
Trek Distance: 6 Km (approx)
Time Taken: 2 hrs
Accommodation: Homestay
Altitude: 8,900 feet to 6,400 feet
The fifth day of the trek is easy, and you get a lot of time to explore Sankri village.
If you don't want to stay at Sankri, leave early from Hargaon camp and board your vehicle to reach Dehradun by evening.
After breakfast, start descending towards Sankri on the well-laid trail passing through dense forest. It takes around two hours to finish today's trek due to a short distance of just 6 km.
On reaching Sankri, spend your day exploring the village's local market and meeting locals.
Day 6: Sankri to Dehradun
Drive from Sankri to Dehradun
Drive Distance: 190 km (approx)
Time Taken: 7-8 hrs
This is the last day of your trek, and you are a bit emotional as you leave the spellbinding Himalayan mountains. Immerse yourself in the beauty of these mountains for the last time until you come again and then depart for your destination.
You are expected to reach Dehradun by 6-7 pm; hence, make sure you plan your journey well after 8 pm from Dehradun.
Apart from this itinerary, another itinerary is followed by a few trekking organisations, which start from Kotgoan instead of Sankri.
Here is a short glimpse of the itinerary;
Day 1: Drive from Dehradun to Kotgaon
Day 2: Trek from Kotgaon to Khujaai
Day 3: Trek from Khujaai to Dhoka
Day 4: Trek from Dhoka to Shirpuri via Kedarkantha Summit
Day 5: Trek from Shirpuri to Kotgaon
Day 6: Drive back from Kotgaon to Dehradun
Remember to follow this itinerary only if you are an experienced trekker, have done the Kedarknatha Trek earlier, or have booked with renowned trekking organisations.
When Is The Best Time For Kedarkantha Trek?
The Kedarkantha Trek best time is during two primary seasons: winter (December to March) and spring (April to June). Each season offers a unique experience.
Winter Season: December to March
Trekking to Kedarkantha in the winter months lets you witness the landscape transform into a winter wonderland. The snow-covered trail, frozen lake, and clear sky make it a thrilling adventure. However, this is a more challenging trek, and trekkers must be well-prepared for cold weather conditions.
In addition, I suggest you avoid doing the Kedarkantha Trek in December month, especially between 10 December and 30 December. During this period, there are thousands of trekkers on the trail due to winter break, making the trail crowded.
So, for the best time to visit Kedarkantha, choose January and February, when the crowds on the trek are less and the weather is pleasant.
Spring Season: April to June
Spring is the ideal time for those who prefer milder weather. The snow begins to melt, and the surrounding flora comes to life, painting the landscape with colourful blossoms.
The moderate temperatures and clear views make this season perfect for trekkers of all levels. This season is excellent for trekking with families and children.
How Much Does Kedarkantha Trek Cost?
The Kedarkantha Trek price can vary depending on several factors, including the trekking company, the inclusions, and the duration of your trek.
A Kedarkantha Trek package can range from INR 7,000 to INR 12,000 per person. This cost usually covers accommodation, meals, trekking permits, guide fees, and transportation for the whole trek.
It's important to note that prices may fluctuate based on the time of year you choose to embark on this adventure. For instance, the Kedarkantha winter trek in December may be costlier due to the additional challenges and equipment required for cold weather.
In addition, if you are trekking with a reputed and experienced trekking company, the Kedarkantha package cost is on the higher side, i.e. INR 10,000 – 12,000. Although this cost is high, I suggest you trek with only a reputed organisation.
Trekking with such organisations ensures a beautiful experience as they provide efficient staff, delicious food and top-rated equipment on time. Furthermore, they have years of experience managing such a trek and have an expert team to overcome emergencies.
Recently, I have heard a lot from trekker about their experience with other organisations. They had a devastating experience. The trekkers complained of companies not fulfilling their words. Trekkers were not provided food on time, guides misbehaved, trekkers could not complete the trek, and the transport could have been better.
Therefore, spend more and enjoy the trek of your lifetime with reputed organisations.
Is Kedarknatha Trek Difficult?
The trek difficulty level majorly depends on five factors;
Your Fitness
Your Trekking Experience
Weather
Your Trek Leader And Guides
Nature of Keadrkantha Trek Trail
These factors combined will decide how difficult the Kedarkantha Trek is for you. So, let's discuss each factor with different examples.
1. Your Fitness
First, let us consider you regularly work out at home and have prepared your fitness as per the trek. In this case, it helps you on the trek and makes it easy compared to someone unfit. You can easily trek long distances while carrying weight, your body adapts quickly to the altitude, and you are mentally strong, which is vital on such a trek.
On the other hand, if you are unfit, prepare to experience things opposite to what I have discussed above. It makes Kedarkantha Trek difficult for you.
2. Your Trekking Experience
Having previous experience in trekking, especially in high-altitude trek, definitely helps you. Because of the prior experience, you know what to expect on the trek, how to care for yourself, how to acclimatise your body, etc.
But if you are a beginner, you can expect a trek to be more challenging. You find things difficult at different stages as you don't know anything and take time to adapt.
3. Weather
It is a significant factor in trekking. If the weather is clear, Kedarknatha Trek is easily doable. Even in the winter, it is excellent for trekking if it snows moderately. But if it snows heavily, trekking in such conditions is a nightmare. In such a situation, even local authorities close the trek.
4. Your Trek Leader And Guides
This is one factor that decides your whole experience and the difficulty level of the trek.
Having experienced and engaging guides on the trek is of great advantage. Such guides can make the trek a smooth experience for you. They guide you with their expertise, help you adapt to the environment quickly, consistently motivate you and provide you with necessary info wherever required.
On the contrary, if you have inexperienced or unengaging guides, you will have a lousy trek experience.
5. Nature of Kedarkantha Trek Trail
The trail throughout the Kedarkantha Trek is easy to climb, except for the last phase. The last phase is steep, requiring much effort to climb. In adittion, the difficulty of the trial also depend on the four factors discussed above.
So, when deciding about the difficulty level of the Kedarknatha Trek, consider all these factors and then decide.
Your Kedarkantha Journey Awaits: Venture into the Magnificence of the Himalayas
Whether you choose to trek in the winter or spring, Kedarkantha Trek promises a memorable journey that showcases the splendour of the Himalayas.
So, prepare well, choose a reputable trekking company, and get ready to embark on a journey that will leave you with a lifetime of memories and a deep appreciation for the magnificence of the Himalayas.
If you have any queries about the Kedarkantha Trek, leave a comment below.