The summers are here already. Have you made any vacation plans yet? If not, this is your opportunity to plan a adventure in one of the best summer treks in India.
After a details reserach I am sharing a list of eight best summer treks in India that you can consider for the upcoimg summer. By the end of this list, you will likely be enticed to pack your bags and embark upon a new adventure.
1. Nag Tibba Trek
Location: Uttarakhand
Altitude: 9,910 ft
Difficulty: Easy
Duration: 2 days
One of the most popular treks in the Himalayas, the Nag Tibba Trek is divine.
The trail begins from Pantwari, which is just 3-hours away from Dehradun. Owing to its proximity to Mussorie, this trek is easily accessible from many northern cities.
The breathtaking views of the Himalayas surround the entirety of the trail. More phenomenal is the sight from the summit, from where you can witness Gangotri, Kedarnath, Srikanth and Bandarpunch peaks.
2. Chopta Chandrashilla Trek
Location: Uttarakhand
Altitude: 13,100 ft
Difficulty: Easy
Duration: 3 days
If you are seeking to absorb majestic images of the summer treks in India, Chopta Chandrashila Trek could be your answer. Residing in the stunningly beautiful region of Garhwal, this is one of the more visually mesmerizing trails.
The hiking trail comes under a protected area. Thus, traces of civilization are sparse here. In the absence of the hustle-bustle, you can truly experience the presence of nature on this trek.
The highest point of this trek will take you to the Chandrashilla top at an altitude of about 13,100 ft.
3. Dayara Bugyal Trek
Location: Uttarakhand
Altitude: 12,100 ft
Difficulty: Easy to moderate
Duration: 6 days
Dayara Bugyal trek has got everything, scenic landscapes, stunning visuals of mountains, and lush green imagery.
The starting point of this easy to moderate trek is the beautiful mountain village of Raithal.
The limitlessly large yet delightfully delicate meadow surrounds the whole trail of the Dayara Bugyal trek. Trekking right through the middle of this verdant wilderness, you will scale the awe-inspiring Dayara Top and dreamy Bakaria Top.
The trekking season usually lasts all year, except monsoons. But the trail of Dayara Bugyal trek keeps switching the colour palate of its scenery with every season. During the winter snow covers the trail while vibrant colours are galore during the summers.
4. Kareri Lake trek
Location: Himachal Pradesh
Altitude: 9,650 ft
Difficulty: Easy to moderate
Duration: 3 Days
One of the lesser-known treks in the Himalayas, Kareri Lake trek is perfect for your summer adventure.
The trek is formed by the flow of the water bodies originating from the Minkiani peak. You will encounter several gushing streams and enchanting green meadows. These meadows are also home to some of the rare bird-species, that you are unlikely to see anywhere else.
You will also come across artistic shepherd villages, that have a charm of their own.
After arriving at the lake, you would be mesmerized. It is hard to express the ethereal beauty of Kareri lake and its stunningly reflective surface.
Spend some time clicking pictures there, before spending another amazing night in tents at the lake.
5. Har Ki Dun Trek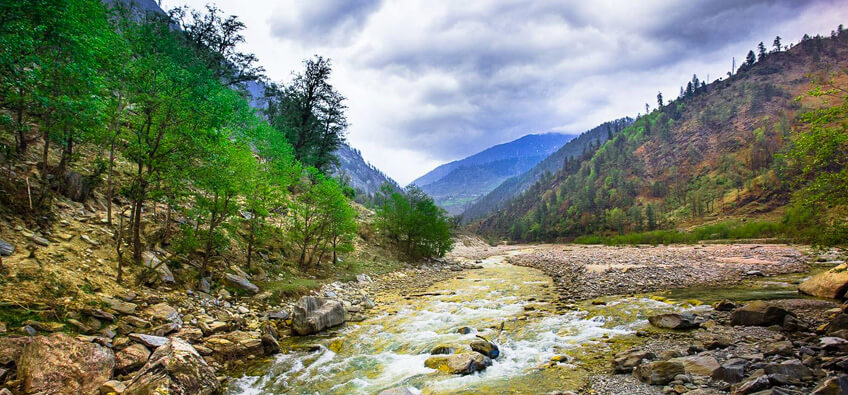 Location: Uttarakhand
Altitude: 11,700 ft
Difficulty: Moderate
Duration: 7 days
Among all summer treks in India, Har Ki Dun is one of the more beginner-friendly treks. The trail is ideal for first-time trekkers, as the long duration allows time for rest and recuperation.
The entire trail is ridden with picturesque views. And the Swargarohini and Bandarpunch group of mountains project a distinct magnificence. The whole trek also accompanies magnificent forests and exhaustless fertile meadows.
The pleasantly attractive campsites of Kalkatiyadhar and Boslo are surrounded by centuries-old villages of the Har-Ki-Dun valley. These ancient villages are some of the rare pieces of human existence that are still untouched by modern civilization.
6. Kedarkantha Trek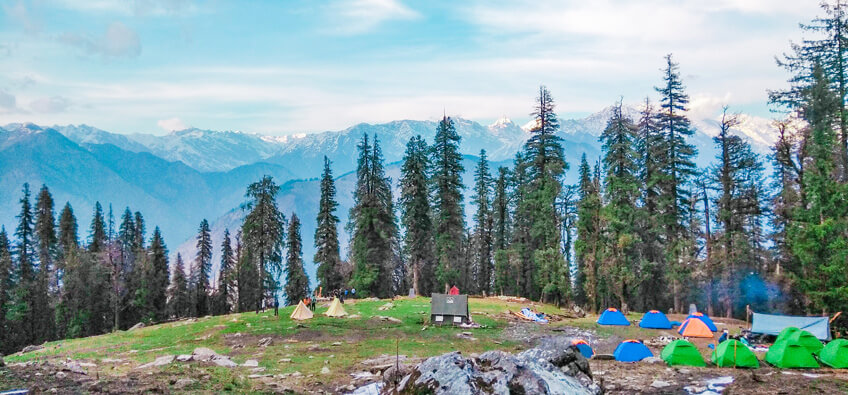 Location: Uttarakhand
Altitude: 12,500 ft
Difficulty: Easy to Moderate
Duration: 6 days
Situated inside the Govind Pashu Vihar National Park in Uttarakhand, Kedarkantha is a stupendously sublime Himalayan summit. It is not a surprise that this trek is so popular among trekkers.
The perennial highest point of this summit overlooks the breathtaking Garhwal Himalayas.
This easy-to-moderate trek allows you to experience the thrill of climbing a summit. And rewards you with striking imagery, even if you are just a beginner.
The blissful campsites are a sight to behold. On top of that, the drive leading up to the start of the trail is filled with some of the most spectacularly gorgeous sights you would ever see.
The drive to Kedarkantha covers Mussoorie, Nowgaon, Purola and Mori before you reach Kotgaon. Particularly impressive is the section after Purola stretching up to the base camp. This section is entirely enveloped with wonderfully dense and beautiful pine forests. 
7. Bhrigu Lake Trek
Location: Himachal Pradesh
Altitude: 14,009 ft
Difficulty: Moderate
Duration: 4 days
The mythological relevance of Bhrigu lake makes this trek special. According to the legend, Saint Maharishi Bhrigu meditated near this lake.
But besides the loveliness and tranquillity of this lake, Bhrigu lake trek has a lot more to offer.
One of its most startling attractions is its gloriously undulating grasslands. The delicately large alpine meadows are yet another fascinating feature of this remarkable trail.
From July to September, the meadows are at their greenest. Trekking on this trail among brilliant wildflowers, richly green meadows and windswept grasslands, is an experience onto its own.
And if you are lucky enough to trek in June, you will be able to witness the astonishingly dazzling sight of the frozen Bhrigu lake!
8. Deoban Trek
Location: Uttarakhand
Altitude: 9,279 ft
Difficulty: Easy
Duration: 2 days
If all you can spare is one weekend out of your incredibly busy schedule, then this is the perfect trekking getaway for you. Especially apt for first-timers, this trek is located at an extremely accessible distance from Delhi.
The dense and spacious Deoban forests get covered in snow during the winters, providing a feast for the eyes.
The Kansar campsite is particularly amazing as it is engulfed with the tall and verdant Deodar trees.
The highest point of this trek is the Vyas Shikhar which is at an altitude of about 3000 meters.
Going through this list of summer treks in India could be exciting if you are a true trekking enthusiast.
However, even if you are not one, this list is likely to tempt you into making vacation plans. Do not resist this urge, because trekking in the Himalayas can be a life-altering experience. And therefore it is worth a try.