My resolution for the year 2019 was to go on Nag Tibba trek. It was the long weekend of Republic day and I was really very excited for this trek to Nag Tibba in the Garhwal Himalayas. Invited a few friends, formed a closed group, came across one of the treks organizing company over Instagram –  Hike Brothers consulted with them and did the required bookings and rest was for us to pack our stuff (with the very limited knowledge about what to pack for a trek especially when it was a winter trek) – I had to say I am thankful to the Hike Brothers who gave us to heads up on what all to bring along. 
An Overnight Journey From Delhi
We caught the overnight bus to Dehradun from I S B T Kashmiri Gate, reaching there at 6 am. At 7 we met the representative and boarded the bus, heading off to Pantwari Village.
Journey Towards Pantwari
Mingling with each other and driving through this beautiful city of Dehradun was an amazing experience and soon we had a beautiful sight of the queen of hills -Mussoorie from below. Traversing towards Mussoorie we had a splendid view of the Doon valley below. As we passed the Mussoorie mall road we got a chance to view the famous kempty waterfall. On the way, to Pantwari Village, Yamuna river was flowing beside us till Nain bagh, it was a rejuvenating experience. Finally, we reached Pantwari, a small village nestled in the Tehri-Garhwal region of Uttarakhand.
Trek To Nag Tibba Campsite
At Pantwari we had scrumptious lunch and we were briefed by the trek leader. Soon we started our trek. Though the weather was beautiful, the sun played spoilsport for us. People had started feeling the uneasiness of trekking in warm clothes with the sun shining brightly over our heads. A few stayed behind, a few went ahead, some rested. That's how everyone proceeded for the first few km of the trek.
Most of the people who accompanied me had some experience of trekking before, so it didn't really bother them much. But, some were trekking for the first time and the aftereffects of the inexperience started showing after the first one hour when they seemed exhausted with walking.
As our base camp drew closer, the ascent grew steeper, so everyone put in extra effort to reach the top and the Nag Tibba Campsite and everyone made it well in time to enjoy the beautiful sunset.
Delightful Evening
As it happens, everyone was waiting with their cell phones in their hands as the sunset kicked in. Everything had slowly started turning red and kept changing to different shades. We all had our evening tea while enjoying the sunset and that moment was perfect. With bonfire, hot served dinner and a perfect company of fellow travelers, we enjoyed our night before we went to sleep.
Trek To Nag Tibba Top
Next morning we woke at 5 am, had breakfast and left for Nag Tibba top. Everyone was glad that they found snow on their way to the summit. At a few places, we all stopped to play in the snow and have a snowball fight. It was just so fun. We kept moving ahead steadily, enjoying the gorgeous views and soft snow. It had now become easier for everyone to trek today as there was less sunlight and colder, so everyone was able to trek around snow. After trekking for a few hours, playing in the snow, we reached the Nag Tibba Summit with a lot of crowd present there.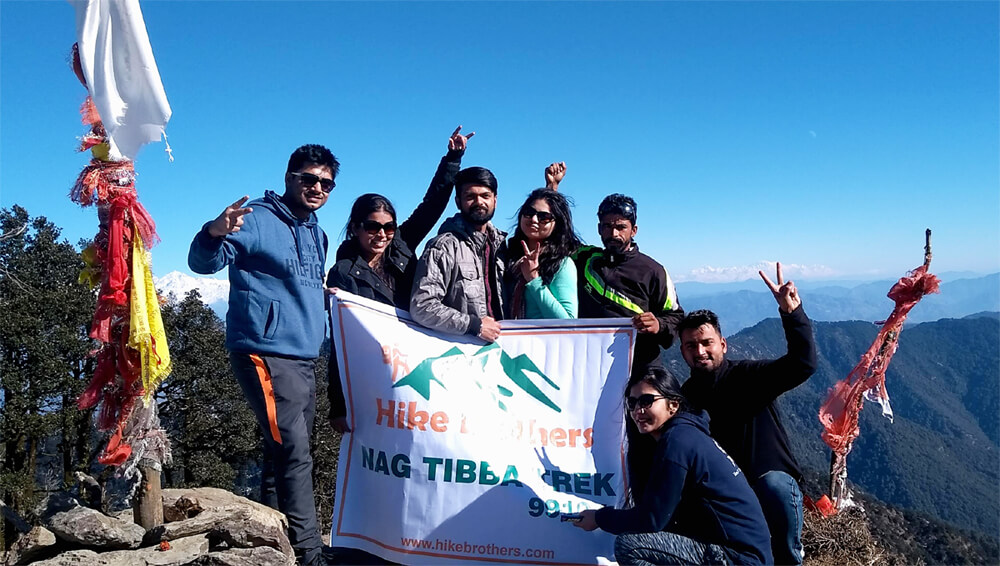 We all sat at the summit peak to get some pictures before moving towards the areas with much snow and less crowd. Everyone enjoyed to the fullest with snow everywhere and wished they all had more time to stay there and enjoy the gorgeous beauty of the Nag Tibba Summit. After an hour or so, we began our return to the Camp Site. It didn't take us long to come back as everyone was sliding wherever they could to reduce the walking time and save energy.
Way Back To Dehradun
In around 90 minutes, we were back to our campsite where we had our lunch and departed for Pantwari. Everyone was enjoying the descent as the sunset kept approaching and everything looked beautiful and people didn't feel tired. On reaching Patwari, everyone thanked our organizer – Hike Brothers for having made the trip successful. With lots of beautiful and adventurous memories, we left for Dehradun ending our two-day adventure.